Iwate Golden Foods
Iwate's food products benefit everyone.
We understand this fact, and so give our highest recommendations to you.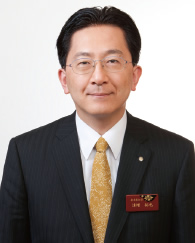 Takuya Tasso
Governor of Iwate Prefecture
I would like to offer my sincere gratitude for the aid that has been offered by people around the world since the Great East Japan Earthquake and Tsunami.
In order to overcome this disaster, Iwate Prefecture has produced the "Iwate Prefecture Great East Japan Earthquake and Tsunami Reconstruction Plan" based on three general principles: "Ensuring Safety", "Rebuilding Lives" and "Regenerating Industries". This plan aims to allow survivors to rebuild their lives as soon as possible. The people of Iwate Prefecture are coming together and working to achieve a complete reconstruction, hoping to show everyone who provided us with aid that we have been able to rebuild.
"Iwate's Golden Foods" is a catalog of Iwate's safe and reliable food products, and describes the agricultural goods that have been harvested in Iwate's rich natural environment. This includes the products of producers who have been able to recover and restart their activities following the disaster.
Iwate is Japan's granary, blessed with both rich and fertile land and the world-class fishing grounds of the Sanriku coast. Iwate's food products and agricultural goods are safe, reliable, and delicious. I recommend them to suppliers around the world who want to provide their customers with the best in Japanese produce.